Source: techcrunch.com
When editing a public or shared document on Google Docs, the people who also have access to the sheet can hover through your profile's icon and view your name and Google+ profile.
It can be a big problem, especially when you work on a public document. In this case, anybody will be able to see your identity and even contact you. If you're too worried about the situation, then you must learn how to be anonymous on Google Docs.
On this page, you will learn how you can stay anonymous and hide your identity when creating and even sharing documents on Google Docs.
Why Should You Stay Anonymous When Using Google Docs?
Source: bobrtimes.com
Allowing people to see you on Google Docs may not be a big deal if privacy does not matter to you. However, leaving your name exposed when using Google Docs can even cause security issues. It can even become an opportunity for hackers. In some cases, it allows some people to keep on disturbing you after learning your identity on Google Docs. For a person who prioritizes privacy, learning how to stay anonymous is highly advisable.
How to be Anonymous on Google Docs while Editing a Document?
First, you should learn how you can conceal your identity as you edit a document on Google Docs. Note that Google is using the information on your Google account in recognizing and showing your profile and its icon in the editors list on the upper side of the document.
Sadly, Google Docs does not have any sort of built-in option for hiding the information. However, Google will fail to feature your profile details once you log out of your Google account. Thus, you have to log out and close your Google account before opening the link to the Google Docs document. That is when you will appear as an unrecognized user with an animal profile icon.
You can also access Google Docs under the incognito mode to access and view the document. Since the incognito mode is separate from your recent browsing activity and does not use the saved cookies, it'll open the documents without asking you to log into your Google account.
The incognito mode is often listed in the key menu for most web browsers. Likewise, you may press the Ctrl, Shift, and the letter "N" keys or the Ctrl, Shift, and letter "P" keys to open the incognito window. See the picture below that shows how you can show up as an anonymous entity when editing a document on Google Docs through the incognito window:

Source: Gtricks.com
How to Stay Anonymous While Sharing a Document on Google Docs?
You can also stay anonymous while sharing your finished document on Google Docs. You can do it without linking it to the Google account name and details with it. Take a look at the picture below:
Source: Gtricks.com
First, you need to open the document and hit the "Share" button that you will see on the upper right side of the spreadsheet. From there, you can hit the button "Get Shareable Link".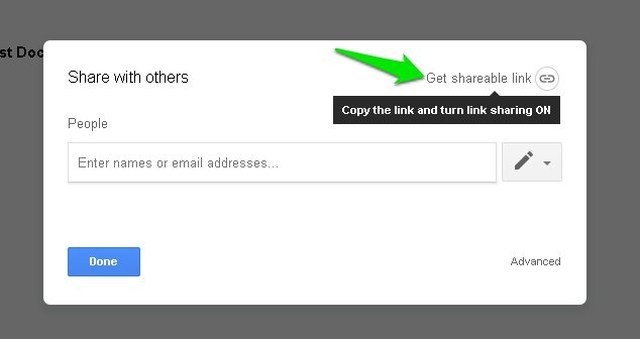 Source: Gtricks.com
Use the drop-down menu in choosing documents on the right. These include the comment, edit, and view options.
Source: Gtricks.com
After that, you can start sharing the provided link everywhere. This way, other people will see and open the document without exposing your name and identity as the document's creator.
Source: Gtricks.com
Other Things to Consider
Though other users will be unable to view the details regarding the owner of the shared document, they can still see your identity in one way. That is when you allow them to edit the document. This will expose the person who edited the document previously, which might be you. If you do not want them to see your name in this case as well, just give them the privilege to comment or view the public document before sharing it through the web. Limiting the privileges to other people is key to sustaining anonymity.
Conclusion
Learning how to be anonymous on Google Docs is very important if you're creating a public document. The same thing applies to work on and sharing a public document. Hackers have become so clever in catching personal data, so you must do your part in protecting your identity and information. Staying anonymous on Google Docs is one simple way. Don't allow everyone else to see who you are, where you are from, and how they can contact you. Perhaps, there could be more ways to maintain anonymity when using Google Docs, but what you've learned here will be so helpful in any case. Maintaining your anonymity is always a must, so you better try these simple tricks and see for yourself.