Google Forms is one of Google's extensive online office suite applications. It is a survey tool that allows you to get more done in your browser for free. It is very easy to use and one of the most efficient ways to gather data and save it directly to a spreadsheet. With Google Forms, you can create personalized surveys and quizzes using a simple online form. And since this is an online tool, you can share the form with multiple other users in real-time.
Background
This extremely helpful online tool has gone a long way since it started in 2008 as Google Sheets. When it had just launched, the capabilities were very basic. It has since undergone a number of updates and is now a full-featured form that allows you access to a variety of features and templates. It also offers several capabilities such as menu search, shorter URLs, and limiting the number of responses.
In this article, we will help you create a Google Form anonymously. This is helpful when conducting anonymous surveys or gathering research around sensitive issues. But before we go any further, let's start by learning the basics.
Building a Basic Google Form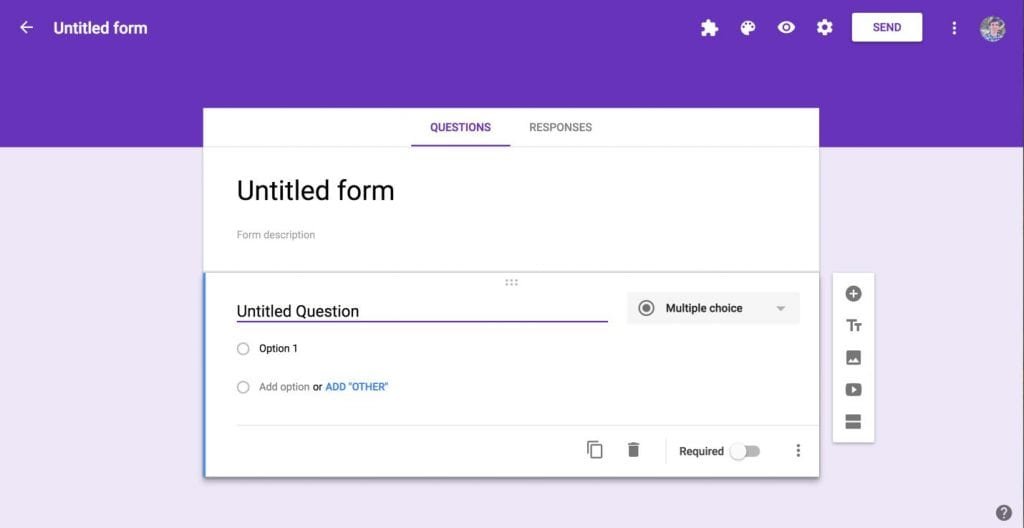 Since this form comes free with your Google (@gmail) account, make sure you have signed up for one. Once that has been set up, go to the Google Forms homepage, or open an internet browser and type in docs.google.com/forms to start building your Form. From here, you can choose a template or start with a blank sheet.
The Forms editor is pretty straightforward. Simply fill out the form, which fills the center of the screen, as needed. You can choose between several choices to use by clicking on the drop-down box next to a field. Your choices are nine question types, along with photo and video fields. You can choose to make checkboxes, multiple choices, drop-downs, short answers, linear scale, and many more. You can also customize and help your form stand out by changing the color scheme, font styles, or uploading an image or video from YouTube.
If you are creating a quiz or a survey, you will likely need to include more than one question. To add more as many questions as you want, simply click on the plus (+) sign. You can vary your types of questions, separate the questions into different sections, and even give each section a name. This is extremely helpful when creating longer surveys that can easily get overwhelming when all questions are placed on one page. You can re-arrange your questions by dragging and dropping them individually between different sections. Google Forms has thought about almost everything we need and makes it extremely easy for us.
One great addition to Google Forms is the Quiz mode. For teachers and other educational instructors, this is an easy way to create digital quizzes, which automatically collects student responses and grades them. The teachers can either choose to send the results immediately after the form is submitted or after they have reviewed the answers. If the latter option is used, students or respondents will have to sign in using their Google account as well. The Quizzes tab (above) is found inside the Form settings.
How to Make Google Form Anonymous
From planning an event to getting anonymous answers for sensitive questions, the number of advantages that Google Form offers is simply remarkable. Here are our step-by-step instructions on how to make Google Forms anonymous (that is, respondents can fill in the form anonymously).
Step 1 – Start a new form. Name it and also add a description, if needed
Step 2 – Fill out your questions, add in the necessary fields, and choose the drop-downs
Step 3 – Access Settings by clicking on the gear icon located on the top right corner
Step 4 – It will open by default on the General tab. Make sure that the radio buttons for Collect email addresses and Limit to 1 response are unchecked. Note that by unchecking the Limit to 1 response checkbox, you can receive multiple responses or inputs from a single respondent.
Step 5 – Test the form. Copy the link to the survey you've created. Click on the Send button to find the short link to the form
<iframe width="560″ height="315″ src="https://www.youtube.com/embed/ln3_rURMLCI" frameborder="0″ allow="accelerometer; autoplay; encrypted-media; gyroscope; picture-in-picture" allowfullscreen></iframe>
Step 6 – Open a browser where Google is not automatically signed in (Firefox, Safari, or Opera)
Step 7 – Paste the link on the browser and test your survey form
Google Forms is simple to operate, quick to complete, and allows easy collaboration with its what-you-see-is-what-you-get interface. It also allows you to run as many free surveys as you would want, unlike most other survey tools. What it lacks in customization in the form's design, Google Form makes up for it with everything else it has to offer.