Some of us are wondering how you can call someone in private or make calls anonymously. This may be in a positive way or in a negative way. However, this may be important to people who would like to hide their identity to report something that may involve their own security. How can you do that using your phone?
This tutorial article aims to present information and teach you how to call without seeing your phone number. The fastest way you can do this is actually by using or dialing a specific prefix like *67 ( though not every phone can do this ). If you have a modern phone like a smartphone, either iPhone or Android, you have an option in your settings to make a call in anonymous mode.
You may also use a Google Voice application that is free in play store that can mask your real number even if they have installed an unmasking App.
We have listed a step by step procedure to be your guide below on how to make your number anonymous when calling
Use Prefix methods
Know your location Prefix
Before you can do this,  you may need to know what is your prefix depending on your location;
*67 – for North America lines, like AT&T and Sprint
#31# – Can be North America as well as Canadian phone lines
141- United Kingdom landlines and mobile
To make sure what is your correct prefix number to use, call your phone provider for support.
Open for your phone App
It is the phone receiver like App in your device home page, for non-mobile users or landlines, just start dialing.
Dialing in your Dial Pad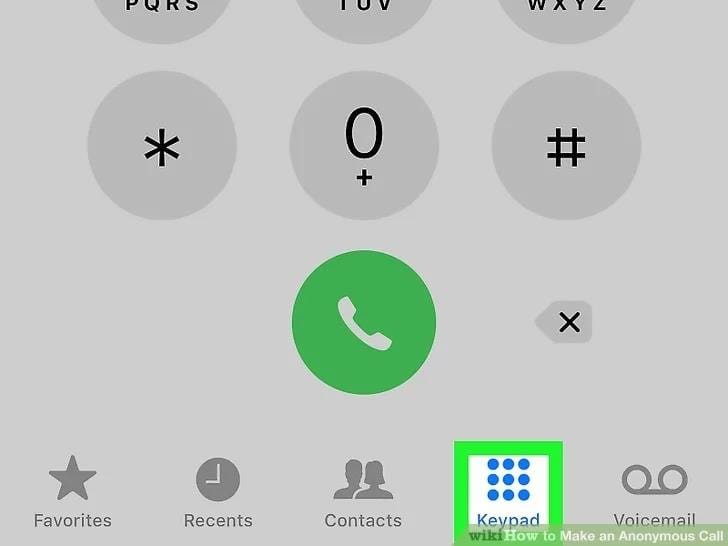 If your device or an iPhone won't open a keypad from your phone App you may use the App icon below that looks like a keypad.
Note: This is not for landline users or basic phones (nonsmart phones )
Dial your Prefix
Once you obtain your prefix for your location, you can now start to dial it in your keypad, but do not tap the call button after that yet.
Type the number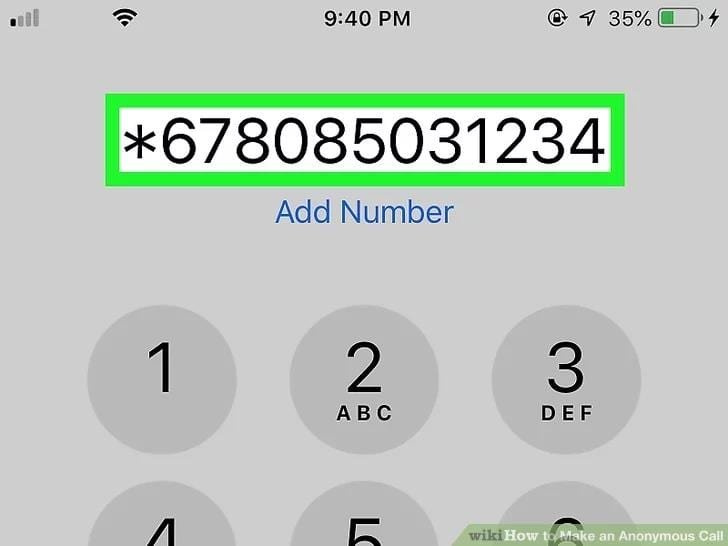 Use Google Voice
Opening Google Voice
Open it by tapping the voice App that looks like the image below. It looks like a phone receiver that is color white with a green background. For iOs users, you may need to download its App Store. This requires a google account. If you don't have one, you need to sign up and create a profile. And if you already account and not yet sign in, please select an account or enter t manually.
Tap Calls tab
Once you are signed in and opened the Application, you may see another phone receiver at the screen, and bottom left to be exact. This is for iPhone users, and for Android, it is located at the top part.
Tap the plus sign
This is for you to find a phone number in your contact list or manually input a number. Once you tap this on an iOS device, you will have another window of menu. For Android phones, this will be a phone receiver icon instead.
Tap Make a Call
You can see this on the pop-up menu. It will send you to the caller page. This is not suitable for Androids.
Entering the number
You may not input the number you would like to call.
Tap Call + number
Tap Call option
Once you press that icon it will start calling the number you dialed anonymously. They will not be able to see whats the number calling instead it will show private number.
Other tips that you need to consider on how to make your number anonymous
Almost any web portal you access, social networks you subscribe with, brick-and-mortar stores you stroll in and out of – they all urgently want to have a chance to connect with you, because they're not content with just emailing. No one checks his email. Everyone has an email called "junk letter," which they use specifically for such circumstances. Disguising by number is not a new concept. Researchers talked about it before, and we're going to talk about it afterward because it's our specialist knowledge area: assisting you to keep your personal information safe. There are several other applications also for this purpose. We will urge you to look at all current alternatives and determine which one would be most committed to protecting your confidentiality.
Conclusion
These tips will not work when you dial 91, those 900 numbers, or even toll-free lines. We do hope that these tips may be used responsibly and for good reasons only. When for all of these preventing alternatives, there seems to be no way to ascertain whether you've effectively blocked your contact information on your sender's mobile number. You could even verify yourself with other figures, but that won't help you identify what appears to look like in the different mobile devices you don't have. Although if you have taken the right measures, your information will be shown as "secret," "impartial," or indeed a similar word, or as your alternative telephone number, if you have gone that direction.